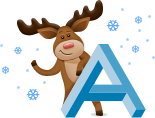 New Year is coming and we at Triaxes have prepared a lot of presents for you:
1. FREE 3DMasterKit Start license!
Now you can start your own 3D business easily and fast using 3DMasterKit Start as your start-up capital! Contact our manager and get a free license for 3DMasterKit Start.
2. Discounts:
If you have already purchased 3DMasterKit Start, upgrade it to the fully functional 3DMasterKit Home with a 50% discount.
15% off any product and 25% off any two products purchased by Dec, 31.
3. Double release:
New useful functions now can be found in 3DMasterKit and Triaxes Legend software. Read more.
For more information Contact us.
[insert_ajaxcontact id=2447]
Comments ( 5 )