Selfie Booth
Triaxes Selfie Booth – software system, allowing the client to independently take and receive photos with a historical character, actor, cartoon character, etc.
The program controls a stand equipped with a touch screen, a camera and a built-in computer.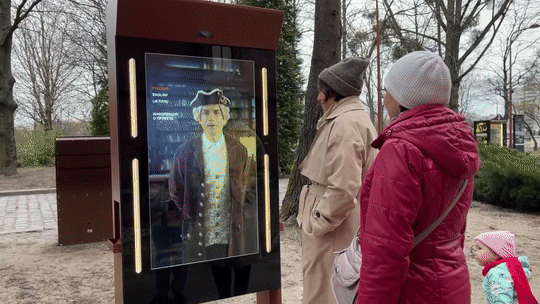 How it works
Greeting;
Taking a photo with a guest;
Sending photos to the client smartphone: using the QR code, email, or the code from the website.
Additional functions
The booth can also check the ticket (read/compare the barcode);
Send a photo with a guest to the character's social network account (after asking the guest's permission);
Show subtitles;
Display an information block with the ability to navigate through pages;
Select the language of the interface, subtitles or data output.
The software takes into account the possibility of failure of individual devices (cameras, Internet, scanner). The character adapts his script accordingly.
You can choose various scenario options in the configuration file (checking the ticket, sending photos to the social network, using the camera, showing subtitles, showing information).
The software provides several options for each scene: greeting, invitation to take a picture, farewell…
Software system composition
Triaxes Selfie Booth software system includes two parts:
Stand management program (multimedia display, client interface, photo production);
Modules integrated into an Internet site for transmitting photos.
We offer
Delivery of Triaxes Selfie Booth software, including setup and integration;
Script development and shooting of video materials;
Production of stands (indoor and outdoor options).
Stand examples
| | |
| --- | --- |
| Selfie with Kant: Content creation and street booth operation | Triaxes Selfie Booth demonstration |
| Interior selfie booth | Selfie with Mikhail Vrubel demo |