Selfie Booth
For the end user photo booth is a touch screen with an interactive movie in which a historical character (or cinema hero, etc.) greets guests and takes selfie for them, then sends them photo to smartphones. It looks as shown in the videos below on this page.
Triaxes Selfie Booth software system controls the photo booth.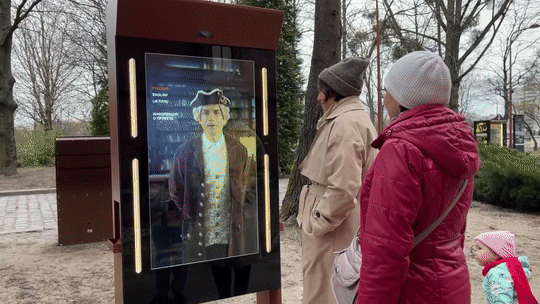 Basic scenario
Greeting;
Taking a photo with a guest;
Sending photos to the client smartphone: using the QR code, email, or the code via the website.
Additional functions
The booth can also check the ticket (read/compare the barcode);
Send a photo with a guest to the character's social network account (after asking the guest's permission);
Show subtitles;
Display an information block with the ability to navigate through pages;
Select the language of the interface, subtitles or data output.
Who is our customer/partner for this product?
We are looking for integrators – companies that have experience in creating video content, and are also ready to assemble hardware.
What we offer
Triaxes Selfie Booth software, including setup and integration;
Scenario and video content production;
Hardware (indoor and outdoor).
Software system
Triaxes Selfie Booth software system includes two parts:
Booth management program;
Webserver modules for transmitting photos.
How to assemble a photo booth?
Basically photo-booth system consists of three parts:
A software system that manages the content and the operation of the photo booth machine. This program is called Triaxes Selfie Booth. This is what we supply. The price is 3000 USD for the each single license.
Video content (an actor in different scenes of communication with the guest).
Hardware (box, screen, computer inside).
Selfie Booth installation examples
Outdoor selfie booth: "Selfie with Immanuel Kant"

Triaxes Selfie Booth demo

Interior selfie booth: "

Selfie with Mikhail Vrubel"

Selfie with Mikhail Vrubel demo