Martin Häusler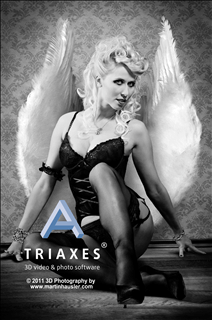 Doing my "regular" photoshoots over the years I had developed a very punchy style of photography – sometimes giving me the feeling that characters in my photographs are even "more than real or surreal" in a way. So i was always looking for ways to improve this feeling that one gets when looking at one of my photographs. Accidently haveing stepped on a "cheap" autostereo lenticular print one day i started looking much closer into this topic. And the idea of being able to use this in "high end" to a point where i could shoot in autostereo 3D and have imperssive depth added to my regular photographs did not let me down anymore…
Well, a few years later, having spent weeks in research and testing, i ended up having my own proprietary camera-rig and workflow set and started to shoot autostereo 3d – from my own artistic projects up to client assignments (such as lifesize 3D for the Berlin Fashion Week Opening in 2011…). Currently i am working and shooting for my first "bigger" exhibition: many known faces from the music & entertainment industry…caputred in auostereo 3D!
3D is still a very "special" field – and at this moment I see it more as an "add on" to my regular work as a photographer, rather than something that i could or wanted to do "fulltime": the results are fascinating, but also the restrictions a photographer gets when shooting autostereo 3D are big and you just cannot shoot as "free" as you would be doing when taking a regular photograph (lighting, framing of the picture, distance to the subjects, and so on…).
since i am actually "shooting" in autostereo 3D (rather than shooting stereo-3D and then converting to multiview images) i created my very own workflow. I do get multiple images outta my camera rig already, but those still require lots of postproduction (and corrections) and therefore – among others – i also need very good depth information" (to be paired with the original multiview images to being able to improve image quality in prostprduction).
Stereotracer i mainly do use for 2 different scenarios:
1) Creating "almost instant" Autostereo previews for myself and my clients "on set": we do send 2 out of the multiple images i shoot directly to a computer where my assistant is creating a quick preview with stereotracer by genereating a depthmask with the software and shooting the resulting multiviews to an Alioscopy autostereo 3D-monitor. this way i can judge and adjust what i am actually shooting "almost in realtime!" and this impoves the resulting quality by far. As well it´s lots of fun to see a 3d (glasses free) image right on set – for myslef, the clients, the models and everybody else 😉
2) In the postproduction process of my images: creating a highed depth-mask for several stereopairs out of my multiview-image-set that we do use to improove depth-quality of the multiview set within our 3d software that is being used to finalize the autostereo photographs.