Selfie with Kant, interactive stand
The project was ordered by the Kaliningrad Cathedral — the main cultural and historical place of Kaliningrad. The  cathedral was built more than 700 years ago. Now it serves as a multifunctional cultural center consisting of an academic concert hall, where the largest organ complex in Russia is located, as well as the I. Kant Museum.
At the northern wall of the cathedral is a memorial burial of the philosopher Immanuel Kant. Not far from this place there is a stand, on the screen of which the image of the philosopher, performed by the actor of the drama theater Gennady Filippovich, is shown .
The digital Kant welcomes guests and invites them to take a joint photo, takes a picture himself and sends selfies to guests' smartphones or emails; at parting, the philosopher gives good wishes based on his famous quotes.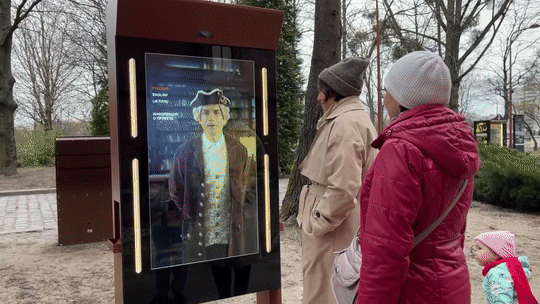 The interactive stand Selfie with Kant includes three components:
Equipment (stand body frame, display, computer, camera, data transmission);
Software system (stand control program and website modules);
Video materials.
The implementation of the project began with the idea of making a stand and creating a script, then the design of the software and hardware was carried out, the actor was selected, the video material was filmed and processed in the necessary way.
The Triaxes Selfie Booth software system connects all parts of the complex and provides interaction with the user. The stand is open around the clock. Near the stand you can meet both citizens and guests of the city.
The process of preparing video materials and the way the Selfie Booth with Kant works are shown
in this video:
A news story on local television about the opening of the stand:
To order interactive photo stands, please
contact us
.