This year the Looking Glass Factory team launched the production of a new model of the autostereoscopic lenticular display with an excellent 3D effect that could be described as holographic.
Looking Glass Portrait is the name of the new 3D (holographic) display. 
It has a high resolution (1536×2048), 7.9″/20cm diagonal screen, portrait orientation, and equipment that allows you to use it as a stand-alone device or as a display connected to a computer. You can get more details about this display here.
Looking Glass overview from Michael Brown:
I support the project at Kickstarter and got the Portrait display as an early beta tester.
My first impression is that it is awesome!  Excellent, comfortable 3D effect and a well-designed frame allowing to place the display on the table or the wall. Samples of photos and images have already been uploaded to the display. This allows you to immediately turn on the device and evaluate its capabilities.
However, the most interesting thing is to use the display with your images. Let's see what I got.
There is HoloPlay Studio software from Looking Glass Factory which is intended to prepare photos and videos for playback via the 3D display. It can import source images in the following formats:

But I have some photos taken a few years ago with an Android smartphone via the Google Camera app and the Lens Blur mode that also uses the depth map.
I use Triaxes StereoTracer. Let's see what I get.
Convert 2D+Depth (Lens Blur) files
The Lens Blur mode seems to have been replaced by the Portrait mode in the modern Google Camera app. However, the idea is the same – the file contains an RGB photo and a depth map. 
When you select a file, StereoTracer immediately shows you the depth map that it contains. Then you can view this depth map in the program's working window.
The conversion process consists of just a few steps:
Open the file;

Set the rendering parameters (3D effect strength) and export the file to the Quilt format for Looking Glass.

Export the resulting file into the HoloPlay Studio to feed it to the Looking Glass display.
Let's see how it works.


Convert Stereo photos to one or separate files (.MPO, .JPG etc.) 
At the initial stage of the project, we indicate that we will work with a stereo pair. Then we select the .mpo file – in this case, StereoTracer will immediately show the stereo pair stored in the file. Then the depth map is calculated. Next, the process looks similar – we set the rendering parameters, create and save a series of frames as a Quilt image and view it via HoloPlay Studio at Looking Glass Portrait.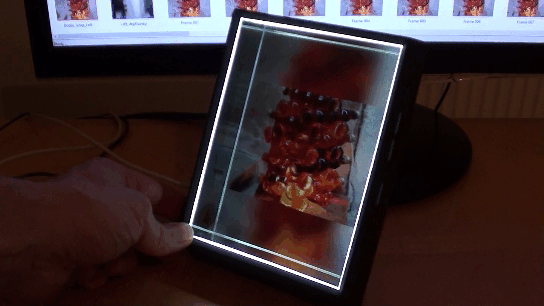 Software
Triaxes StereoTracer works by default in the Demo mode without time limitation.

You can download the program from the product page.
Sample files are already included in the pack.
After installation, you can find the files here:
C:\Program Files\Triaxes\StereoTracer-en 9.5\Samples\2D+Depth
C:\Program Files\Triaxes\StereoTracer-en 9.5\Samples\Stereopair