Program deactivation
Deactivation — is a process of switching Triaxes software from the full-mode into the demo-mode.
Deactivation is performed if the user needs to install an existing software product on another computer. Since the number of activations for a specific activation code is limited, when the allowed number of activations is reached, the user will not be able to activate one more software product on another computer.
You must perform the following actions:
Execute the program and open the About dialog window using

Help | About

menu command.

Click

Deactivate

to start online deactivation process.

In case of success the program will switch to the demo-mode and you will see the following message: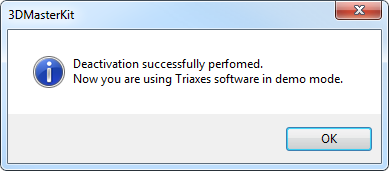 If there is no Internet connection, a program will show the message (see pic.). Save the deactivation query file to the portable drive (flash drive) and go the the computer with the Internet connection.
4.1. Open browser and go to URL-address:
"https://triaxes.com/activation". Follow the prompts on the page and send the deactivation request file using the data input form.
Note: The Deactivation button is also available in the Help | Activation dialog, if the program is activated.